Halloween in Stone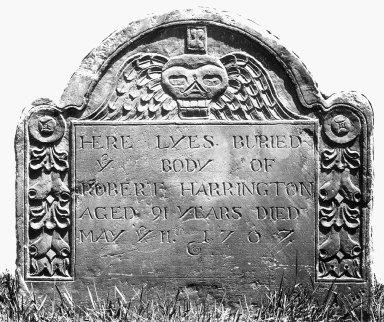 Above is the gravestone of my paternal 9th great-grandfather Robert Harrington who was born in 1616 in Somerset, England and died in 1707 in Watertown, Massachusetts at the impressive age of 90!  His estate lists a house, mill and over 647 acres of land.
Below are links to prior posts that explore gravestones and tales of witches.
In Celebration of All Hallows' Eve
Captain Jonathan, Gentleman: Part III – Thomas Danforth – Judge not lest ye be judged
Comments/Reviews  Appreciated!
© David R. French and French in Name Only, 2017. Unauthorized use and/or duplication of this material without express and written permission from this blog's author and/or owner is strictly prohibited. Excerpts and links may be used, provided that full and clear credit is given to David French and French in Name Only with appropriate and specific direction to the original content.