Bodurtha – Ye streete fence to Ye great river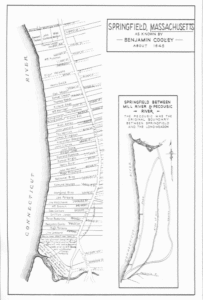 Reice Bodurtha, my 8th paternal great-grandfather, was born in 1621 in Wales and married Blanche Lewis in 1646 in Springfield, Massachusetts. Together, they had four children (John (died at birth), John, Joseph, Samuel) during their marriage. In 1645, he was granted a house lot, wet meadow and woodland by the Plantation of Agawam (Springfield Colony). The house lot extended from "Ye streete fence to Ye great river."  The map (at left) illustrates the location of the Bodurtha house lot.
Sadly, Ye great river – the Connecticut River, was the place where Reice and his family suffered a tragedy. The event is described is in Stories Carved in Stone: Agawam, Massachusetts (Rusty Clark, 2005).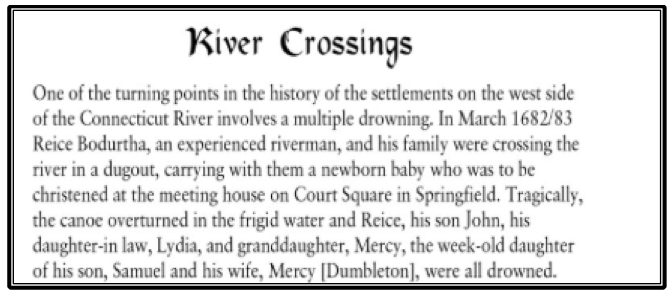 ---
Which, Witch?
In 1652, Hugh Parsons, of Springfield, Massachusetts, was convicted before William Pynchon on formal charges of witchcraft. One of his formal accusers (along with his wife and most of the town) was Blanche Bodurtha, my 8th great-grandmother.
Witch-Hunting in Seventeenth-Century New England: A Documentary History 1638
Before Salem: Witch Hunting in the Connecticut River Valley, 1647–1663
© David R. French and French in Name Only, 2017. Unauthorized use and/or duplication of this material without express and written permission from this blog's author and/or owner is strictly prohibited. Excerpts and links may be used, provided that full and clear credit is given to David French and French in Name Only with appropriate and specific direction to the original content.